Pro-Touring 14" FLARE™ Windshield for Road Glides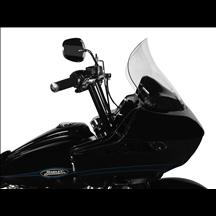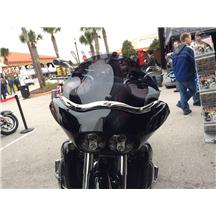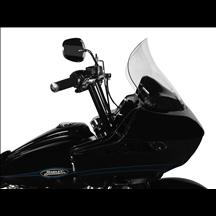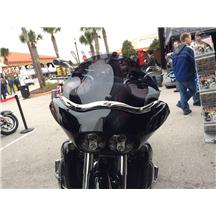 Pro-Touring 14" FLARE™ Windshield for Road Glides
For 1998-2013 FLTR. FLTRX
Customer feedback and additional testing have resulted in this addition to the Klock Werks Original, Patented, FLARE™ Windshield product line for Road Glides! The "Pro-Touring" version of the Road Glide FLARE features hard-coated polycarbonate material for added protection and increased durability - perfect for the long haul, and riders with passengers. Klock Werks FLARE™ Windshields feature "hips" that direct air to add downforce, improving stability vs using a stock shield. The "flip" at the top of the FLARE™ is designed to re-route air upward, allowing it to flow back as clean, less turbulent air for the rider and passenger. Klock Werks FLARE™ Windshields are the original. Made in the USA.
FLARE™ Windshields fit ALL 1998-2013 FLTR / FLTRX touring models - ALL Road Glide fairings!!!
Road Glide windshield dimensions are overall measurements taken in the center from the bottom edge to the top.
Lexan® Polycarbonate with FMR hard coating is used to create the custom-molded patented design for unmatched durability and quality.
Pre-drilled for easy mounting using stock windshield hardware. Use with new FLARE-Nuts™ for the best and easiest fitment!
Certain mirrors and/or handlebars may need to be adjusted back slightly in order to fully turn or engage fork lock without touching the windshield.
Proudly made in the U.S.A.